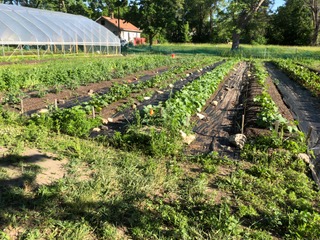 Asbury Farm to Table
While turning blight into beautiful and productive landscape is good on its own, transforming a food desert into abundance is life giving. But Asbury wants to make sure that produce is available on the tables of our residents. Our culinary arts and nutritional education programs offer residents the know how just as our farms offers nature's bounty. In addition, the Asbury Café is a culinary experience assessable to our neighbors and anyone with an appetite. Our "pay what you can" approach means that no one is turned away. Those who can help either on the farm or in the café are offered special MyFlintStones tokens that can be used either in the Asbury Café or in exchange for produce to prepare at home.
Asbury Café Menu
Open Fridays 10am to 2pm
Pay what you can
Deli Subs
Lettuce, onions, tomato plus choice of ham, turkey or beef
Stir Fry
Local grown garden vegetables sautéed with love and herbs
Garden Salad
Local grown greens & vegetables. Ham, turkey or beef upon request
Wraps
Lettuce, onions, tomato plus choice of ham, turkey or beef
Muffins
Chef Kevin's special recipe with fruit, love and other delights baked in.
Smoothie
Assorted flavors of the day